Getting started with Visionect Software Suite¶
At the heart of Place & Play is the Visionect Software Suite, acting as a server for thin clients and hosting a session for each Place & Play device. Around that we've built a host of features that enable you to deploy, control, manage and integrate the Software Suite in your solutions.
The Visionect Software Suite features:
Universal web CMS support
Improved screen content performance and intelligent screen updates
One-stop device management
Find out more about the Visionect Software Suite here.
Universal web CMS support¶
Place & Play is compatible with all major content management systems (CMS), allowing users the freedom of choosing the content management tool that works best for them.
Enter any URL into the Visionect Suite to quickly display the content of a particular web page. This allows for effortless compatibility with any CMS or anything else. Just type in the web address of the output you would like to show on screen.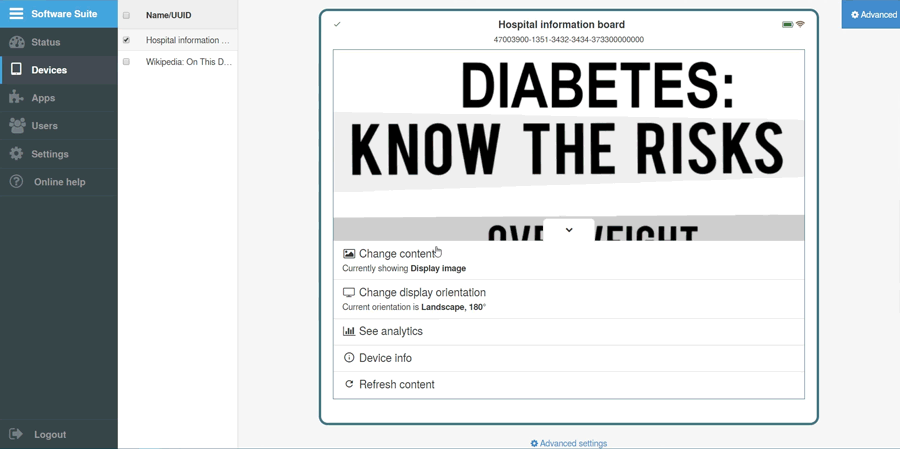 Find out more about content management in Visionect Software Suite here.
Improved screen performance, intelligent screen updates¶
Visionect Software Suite supports the option of automatic content optimization on Place & Play. Certain properties of images intended for grayscale displays, such as contrast are automatically adjusted for optimal results, making the conversion of 16 million or more colors into 16 grayscale levels as smooth as possible.
In addition, the Software Suite eliminates any content flicker on Place & Play with the help of intelligent updates. The breakthrough functionality detects all and any change in screen content, automatically updating only the relevant screen regions. The automatic partial refresh removes the need to manually add the display sections to be refreshed, allowing for even lower power consumption, faster screen updates and less data transferred.
Find out more about enabling intelligent updates and image optimization in Visionect Software Suite here.
One-stop device management¶
Integrated into the Visionect Software Suite is a basic digital signage CMS, allowing users to easily upload an individual image or a rotating image gallery directly onto Place & Play.
In the Suite you can now quickly note the relevant server information, engine load data, the number of online devices and active sessions, and the status of the firmware server.
In the 'Basic mode' overview for each of your Place & Play devices you can check the status of each device, access the live view of what is shown on screen, change the screen orientation, or delve into performance analytics. For even more settings, head over to 'Advanced mode'.
Find out more about one-stop device management in the Visionect Software Suite here.