Run the Visionect Configurator¶
Download the Visionect Configurator¶
To configure your device with the Visionect Configurator, download and run the Configurator:
Basic configuration¶
Connect the device to Wi-Fi:
With Wi-Fi connections, type in the name of your Wi-Fi or scan for existing networks, and then select your encryption type.

Open networks: The device will connect automatically.
Encrypted networks (WPA2-PSK): Enter the password of your wireless network.
Enterprise security networks (WPA2-EAP): Enter the password of your wireless network. Next, enter the RADIUS username and password and upload the necessary certificates.

Please note that the Wi-Fi password is limited to 31 characters only.
Next, configure your device hosting by entering the address of the server on which your development kit is to run. Your IP address will be obtained automatically.

Note
Included with every Visionect development kit is 1 month of free server hosting. Claim it by using the server address you will receive when purchasing the kit. When the free period expires, you can set up your own server or decide to continue hosting with us. Contact support@visionect.com for more details.
By clicking 'Apply', your device will connect.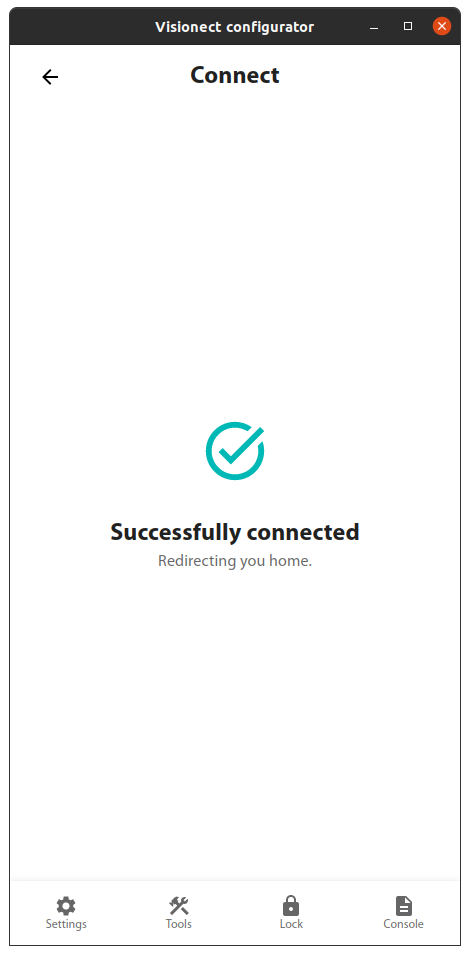 Advanced configuration¶
For advanced hosting configuration, change the port of your server by clicking on the gear icon below the server address. You can now set a default server port or enter a custom port address. Click 'Accept' to return to the main Configurator screen.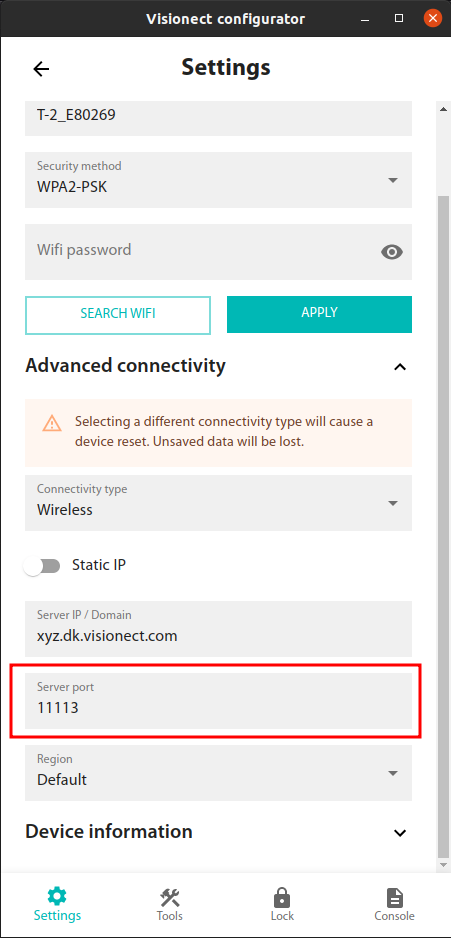 Normally, the Visionect Configurator will obtain your IP address automatically. However, you can change the device network settings by clicking the gear icon below the automatic IP address. You can now change your IP address, subnet mask, gateway and DNS server. Click 'Accept' to return to the main Configurator screen.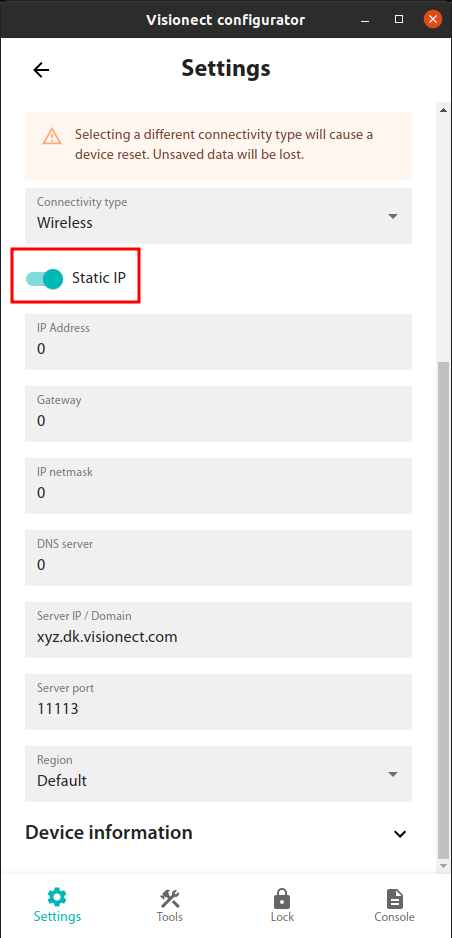 For advanced device configuration, access the command line interface (CLI) by clicking the 'Console' button. Read more about CLI configuration here.
Warning
Some devices might stop operating after being connected to the Visionect Configurator a while. Nothing is wrong with the device; it might have simply entered 'soft sleep'. This is a power save mode meant to conserve power, which activates after 15 seconds of physical inactivity (as detected by the accelerometer).